PRODUCT DESCRIPTION:
ACRYLIC STUCCO is a mixture of high- performance acrylics specially blended for breath-ability, adhesion, flexibility, texture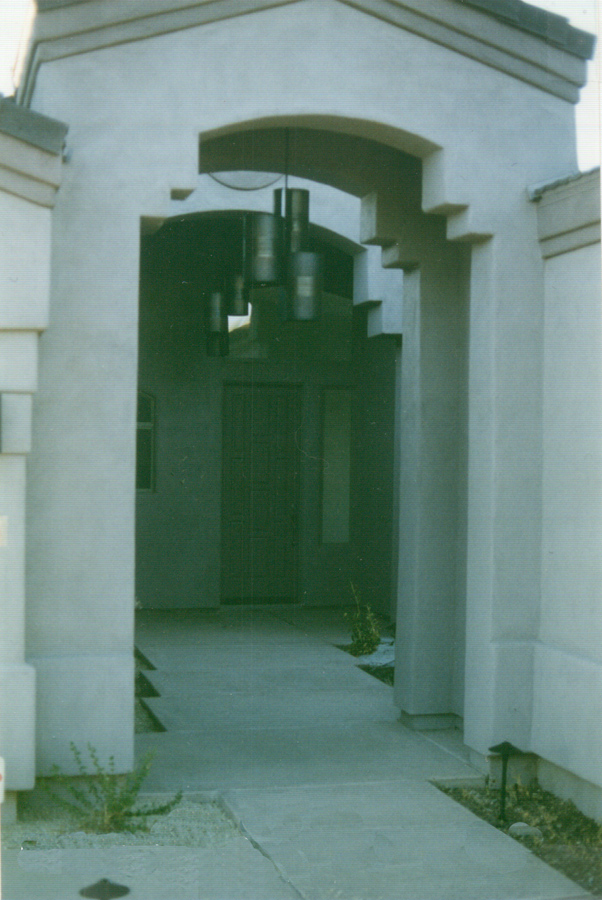 and toughness. Added in the formulation is a special ceramic and aggregate compound to insure a stucco texture surface but with the added characteristics not found in standard dry mix ratios of stucco. It is not affected by water or moisture-penetration, and is designed to stay down for a long bonding life. It will not crack and peel. It is UV-protected for long life and durability against weathering whether in hot or cool climates or under high humidity or very dry. It is tough and durable to provide years of service and added beauty.
ACRYLIC STUCCO
was designed with "0" VOC's and no known carcinogens to coat a variety of surface structures on metal, wood, stone, concrete, fiberglass or composites without health concerns. If the quantity is a minimum of 300 gallons, ACRYLIC STUCCO can be batched in an assortment of colors as desired to beautify a home's appearance while providing a very attractive, durable surface to the wail structure for years of service. It breathes, and, unlike standard stucco, it can flex with the substrate without cracking giving years of maintenance-free service. Due to the blend of acrylics,
ACRYLIC STUCCO will not allow water to penetrate that can affect and damage substrates. It has added mildewcide in the formula to guard against the growth. When top coated with Multi-Ceramic RE19 Coating for insulation, the surface provides an insulating effectiveness equal to R-equivalency of 19 on the exterior walls and will not cover the stucco texturing.

APPLICATION METHODS:
Surfaces must be clean and dry before application. Any loose or flaking old paints or corrosion must be removed from the surfaces before applying. High pressure water-blasting (3500 psi) is as effective as light sand-blasting in removing loose or flaking surfaces. As a rule, "a coating is only as good as the surface it covers." Grease, oil, waxy substances, dirt, etc. must be cleaned from surfaces. Oil paints can remain if bonded solidly to surfaces.
ACRYLIC STUCCO
can be applied by a Graco Model 1030, 5-horse, airless sprayer or air pot sprayer, or trowel. Spraying requires a steel carbon tip of sires .064 or larger, if desired

IMPORTANT:
Do not take internally. Avoid contact with eyes. If solution does come in contact with eyes, flush immediately with water and contact a physician for medical attention. For quickest removal from skin, wash with water before drying.

The significant Difference :
Coating thickness: At 20 sq.ft./gallon: 64 dry mils (1/16 inch)

Dry time: to touch - 12 hours to recoat - overnight

Full cure - 7 days at 75 degrees Fahrenheit/ 50% relative humidity

Percent solid: 70% by volume

VOC: "0" lb./gallon Weight per gallon: 16.5 lbs.

Weight per gallon: 16.5 lbs.

Clean up: Soap and water for both person and equipment

SURFACE COVERAGE: 20 sq.ft. per Gallon
The fastest build up single coat finish
Uncomplicated efficiency and longer lasting system
UV controlled to minimize aging and cracking
Interior and exterior finishes available
Moisture resisting in all weather conditions
Incredible color retention that remains looking new for many years
Contact our offices for a distributor near you.
All other inquires can be made via Email or:
International inquires can be directed to our corporate headquarters by calling 928-776-2910
For dealerships in the United States call our toll free 888-WALLPNL (888-925-7265).
Email support@wallpanel-systems.com